Transmission Planning & Development Regional Report Card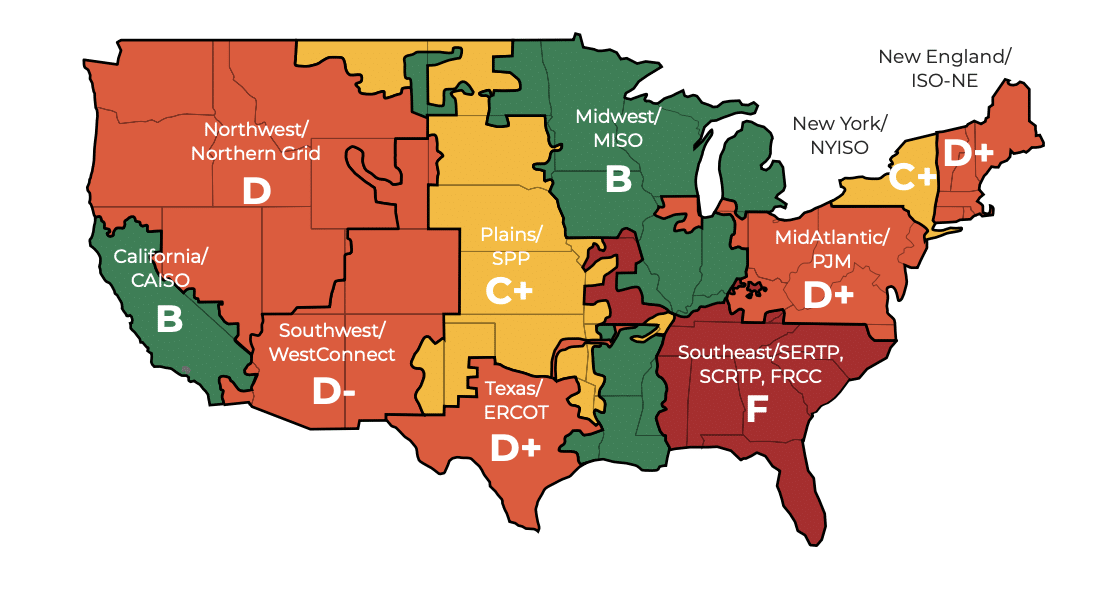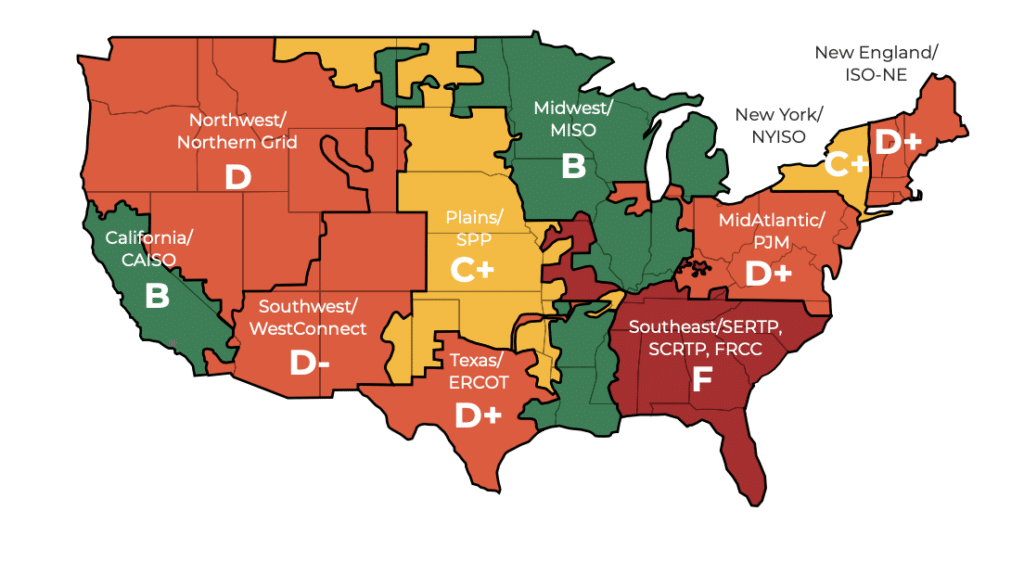 Americans for a Clean Energy Grid evaluated and ranked 10 U.S. regions on the strength of their transmission planning and development efforts. Smart transmission planning is vital to the future security and reliability of America's energy system, but the fragmented nature of our grid leads to wide variation in the quality of regional planning practices.
While no region earned an A — and many have a long way to go — there is growing recognition of the need to proactively and holistically plan new transmission that will facilitate America's energy transition, safeguard the grid against extreme weather, and lower electricity costs for consumers. Many regions are using innovative methods to better plan and develop high-capacity transmission, and all entities can take the initiative to improve the grid in their own region.
Who plans new transmission?
Various entities are responsible for transmission planning and development, including Independent System Operators (ISOs) and Regional Transmission Organizations (RTOs), as well as local utilities and merchant transmission developers. States can also play a role in directing transmission investment.
Why is transmission planning important?
Multiple studies have shown the U.S. needs to at least double its transmission capacity to accommodate widespread electrification and bring new renewable resources online. Long-distance transmission also plays a critical role during periods of extreme weather by allowing unaffected regions to share energy with neighboring areas. 
Despite this well-documented need, construction of new high-capacity lines has fallen steadily over the past decade. While aggregate transmission spending has grown, very little of that money is spent on large, long-distance regional or interregional lines. Between 2013 and 2017, roughly half of U.S. transmission investment was approved outside the regional planning and cost allocation processes. In non-RTO regions, no regionally-planned lines have been approved to date. 
Too often, transmission is developed incrementally, in a reactive way. ACEG's report card demonstrates the importance of proactive transmission planning that carefully evaluates how much U.S. electricity demand is projected to grow, and takes into account increasingly frequent severe weather. 
There is significant evidence that effective planning results in major benefits for consumers. Within the Midcontinent Independent System Operator (MISO), an analysis found their holistic transmission plan would result in benefits twice as great as costs. On the East Coast, a recent study found that proactively planning transmission to accommodate expected growth in offshore wind would dramatically reduce the overall cost of grid upgrades needed to get that energy to shore.
The Federal Energy Regulatory Commission (FERC) is considering a new rule that would require all regions to plan transmission on a proactive, multi-value basis. ACEG continues to advocate for a strong FERC policy, but many regions are taking initiative on their own to plan and develop transmission — and every region has the capacity to improve their planning methods.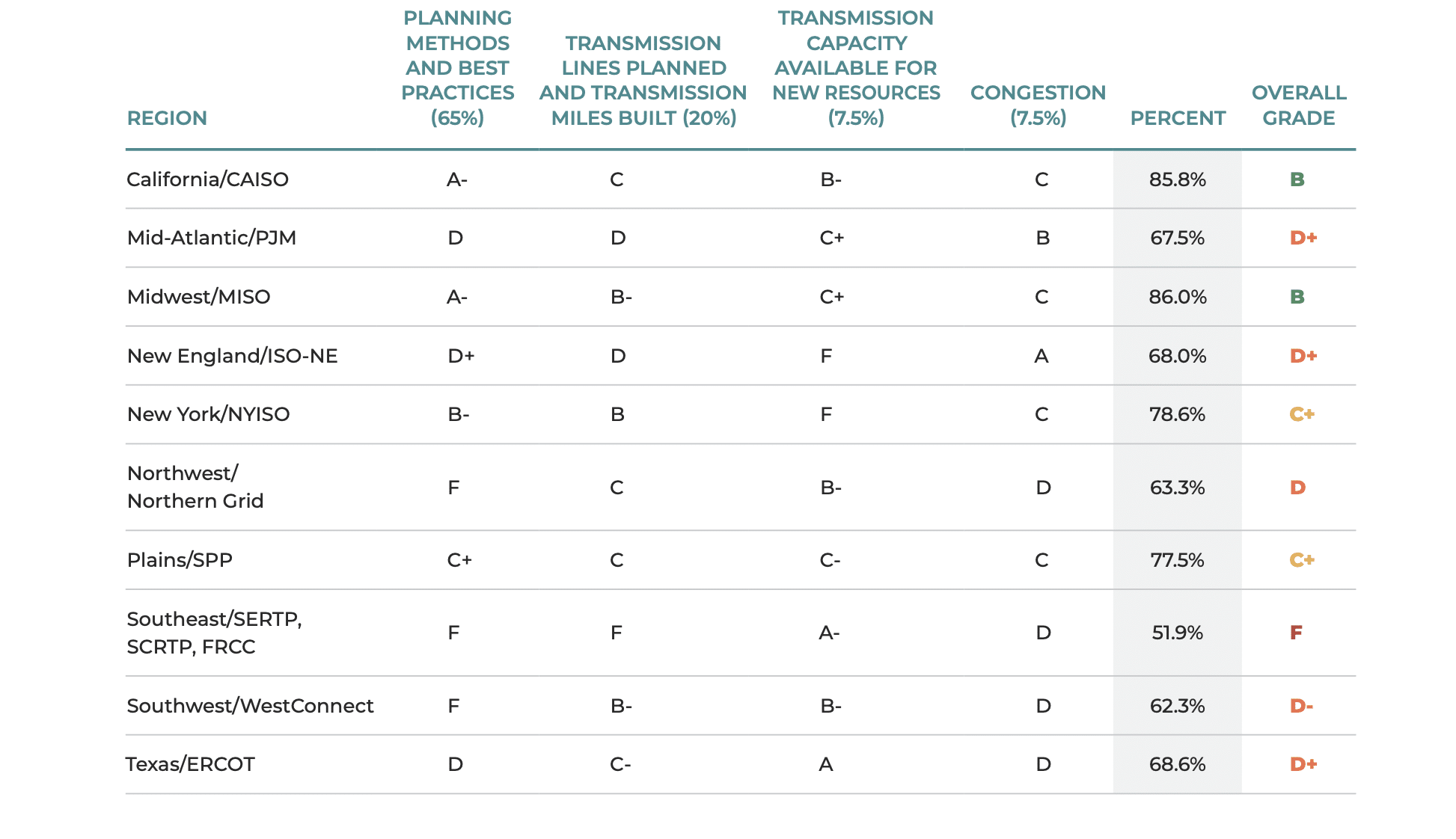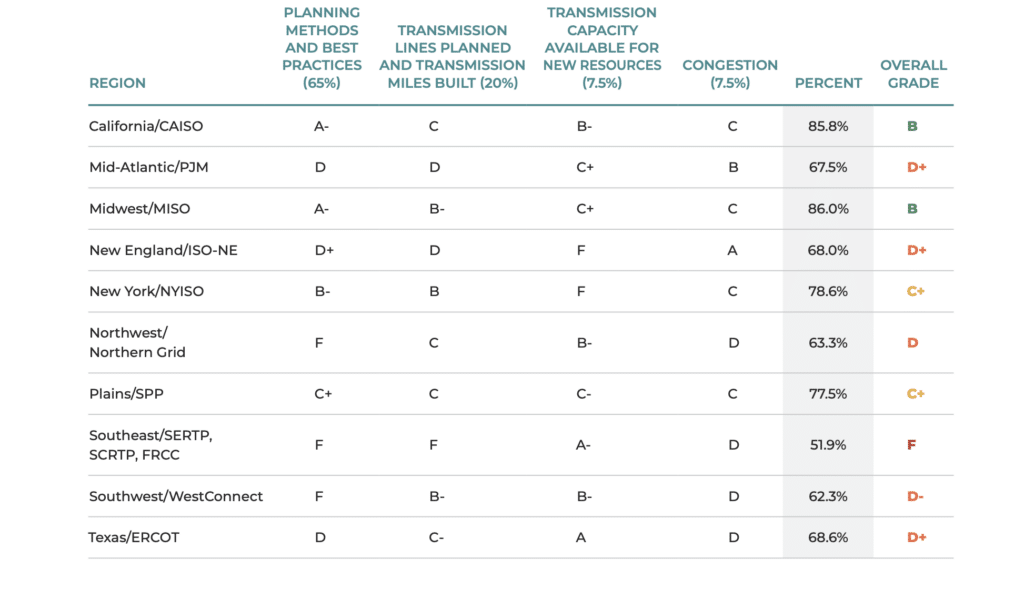 Download region-by-region fact sheets for a snapshot overview of the scores.